Get the Free White Paper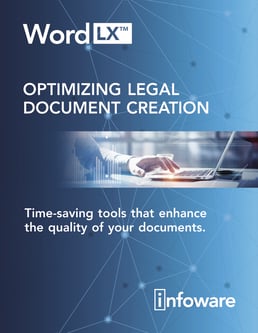 Creating legal documents is time- consuming and complex. Maintaining consistency is difficult when no one is sure what the firm standards are.
This white paper explains how
Word LX™ (a Microsoft Word add-in) helps law firms overcome these challenges by improving document accuracy, consistency and productivity.


This Report Explains How Word LX™:
Allows staff and lawyers to save up to at least one hour per day.

Standardizes the document creation process in order to reinforce brand standards across your firm.

Simplifies formatting and editing tasks with legal-specific automation tools, such as numbering schemes and tables of contents.

Makes legal document creation in Microsoft® Word faster and easier.